DE GEVALLEN ENGELEN
Waarom verdraagt de dood geen artiesten die te snel, te hoog en te krachtig vliegen? Waarom moeten ze zo jong sterven?  Waarom wint de meedogenloze neiging tot zelfvernietiging het van levenslust? Zijn ze te vroeg en te dicht bij de zon gekomen? Wisten ze van tevoren dat hun tijd op aarde zo kort zou zijn, dat ze haastig en zonder aarzelen hun boodschap moesten over brengen onmogelijk om op deze vragen te antwoorden.
'De gevallen engelen' zijn zij wiens leven overschaduwd werd door kwelduivels. We zouden ze evengoed kunnen omschrijven als 'de onheilsvirtuozen'. – Riverside Jazz heeft er drie geselecteerd, de meest symbolische, zij die 'de aanleg hebben tot zelfdestructie'.
Art Pepper – Lars Gullin – Rene Thomas
(tekst Pascal Anquetil)
---
"Riverside Jazz" wordt elke zaterdagavond uitgezonden via BR6, van 22:00 tot 00:00 uur. Tevens is deze, na de uitzending, hieronder terug te luisteren.
Deel 1: 22:00 – 23:00
Deel 2: 23:00 – 00:00
---
Art Pepper (alto saxofonist)
(1925-1982)
Geboren in Gardena, California, Verenigd Staten
Overleden in Los Angeles, Californiam, Verenigde Staten
Art Pepper kreeg bekendheid in de jaren vijftig als een van de belangrijkste solisten van de westkust en de cooljazz beweging. Zijn persoonlijke leven was bewogen, intrigerend en vooral tragisch: hij worstelde met persoonlijke demonen en een langdurige drugsverslaving, waardoor hij veel tijd doorbracht in de gevangenis en afkickklinieken. Maar desondanks dit alles was hij toch in staat om vele klassieke jazz albums af te leveren.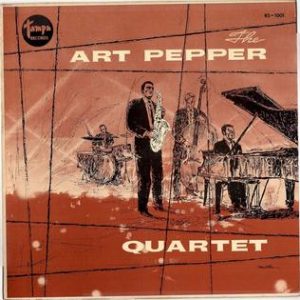 a) Diane 3:36 (Art Pepper)
b) Blues at Light 3:58 (Art Pepper)
Album: The Art Pepper Quartet (Tamba Records TP-20)
Radio Recorders,Los Angeles, California. November 23. 1956
Uitgebracht: 1957
Art Pepper: Alto saxofoon
Russ Freeman: piano
Ben Tucker: bas
Gary Frommer: drums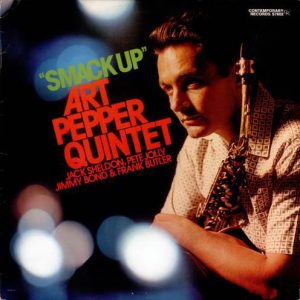 a) Maybe Next Year 4:19 (Duane Tatro)
Album: Smack Up (Contemporary Records M 3602)
The Contemporay Studios, Los Angeles, Ca. Oktober 24 & 25 1960
Uitgebracht: 1960
Art Pepper: alto saxofoon
Jack Shelton: trompet
Pete Jolly: piano
Jimmy Bond: bas
Frank Butler: drums
---
Lars Gullin (baritone saxofonist)
(1928-1976)
Geboren in Visby, Gotland, Zweden
Overleden in Vissefjärdan, Småland, Zweden.
Lars Gullin, componist, arrangeur en vooral een voortreffelijke baritone saxofoon bespeler, hij is een van Zwedens beroemdste jazz muzikanten aller tijden. Hij was een vernieuwer die in zijn composities en arrangementen en in zijn spel een nieuwe dimensie aan de jazz toevoegde. Als Gullin de VS vaker had bezocht om er te spelen, was hij zeker veel bekender geworden, maar door zijn overmatig drugs gebruik, heeft hij zijn carrière niet goed afgesloten.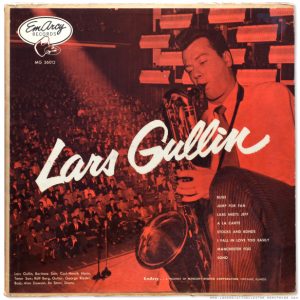 a) Lars Meets Jeff 5:21 (Lars Gullin)
b) Manchester Fog 4:21 (Lars Gullin)
Album Lars Gullin Quartet 1953-1955 (Emarcy Rec. MG 36012)
Opgenomen bij Metronome Records. Stockholm, Zweden
Lars Gullin: baritone saxofoon
Rolf Berg: gitaar
George Riedel: bas
Bosse Stoor: drums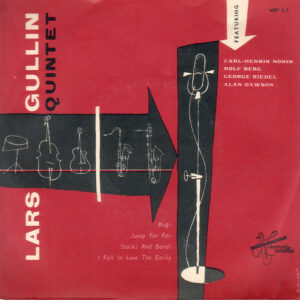 a) Stocks and Bonds 4:01 (Georg Riedel)
b) Jump for Fan 3:37 (Lars Gullin)
E.P: Lars Gullin Quintet (Metronome Records MEP 27
Opgenomen Stockholm, Zweden. November 6, 1953
Uitgebracht: 1954
Lars Gullin: baritone saxofoon
Carl-Hendrik Norin: tenor saxofoon
Rolf Berg: gitaar
Georg Riedel: bas
Alan Dawson: drums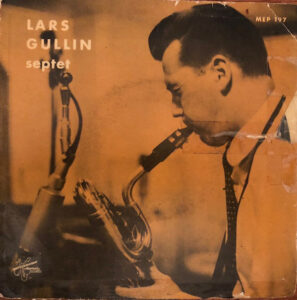 How About You 5:38 (Burton Lane)
Single: Lars Gullin Septet Metronome Records (MEP 197
Opgenomen: Stockholm Zweden. April 23, 1956
Lasse Gullin: baritone saxofoon
Arne Domnerus: alto saxofoon
Carl-Hendrik Norin: tenor saxofoon
George Vernon: trombone
Rune Öfwerman: piano
George Riedel: bas
Nils-Bertil Dahlander: drums
---
René Thomas (gitarist)
(1927-1975)
Geboren in Luik, Luik België
Overleden in Santander, Cantabrië, Spanje
René Thomas werd door collega-muzikanten en critici beschouwd als de beste Europese jazzgitarist van zijn generatie. Ondanks zijn inspanningen om zijn eigen ruimte te creëren, kreeg hij nooit de erkenning die hij verdiende voor zijn immense talent, misschien vanwege zijn introverte karakter en langdurige terugtrekkingen uit het toneel. Van nature verlegen en zwijgzaam werd Thomas gezaghebbend en overtuigend zodra hij zijn gitaar pakte omdeed en speelde. Toen schitterde deze unieke jazzman pas echt. Met zijn diep, rijk geluid en absolute controle over zijn instrument. Na een leven met veel drugs overleed hij in 1975 aan een hartaanval.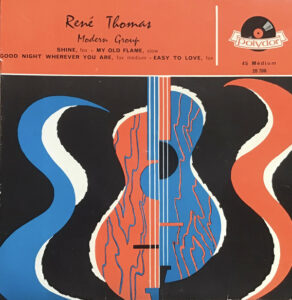 a) Shine 2:59 (Ford Dabney)
b) Easy to Love 2:43 (Cole Porter)
E.P: René Thomas Modern Group 1 (Polydor 20 706)
Opgenomen in Paris. Maart 3, 1956
René Thomas: gitaar
Bib Monville: tenor saxofoon
Roland Ronchaud: piano
Benoit Quersin: bas
José Bourguignon: drums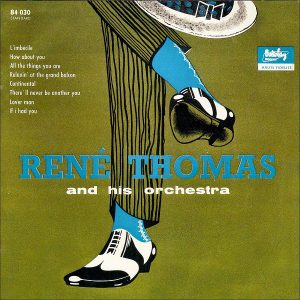 a) How About You 2:37 (Burton Lane)
b) There Will Never be Another You 2:27 (Harry Warren)
E.P: René Thomas & his Orchestra (Barcla Disques 84 030)
Pathé-Mangellan Studio, Paris. April 17, 1954
René Thomas: gitaar
René Urtreger: piano
Benoit Quersin: bas
Jean-Louis Viale: drums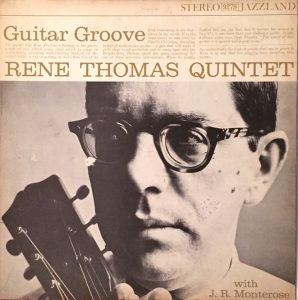 Ruby my Dear 4:45 (Thelonious Monk)
Album: Guitar Groove (Jazzland JLP-927S)
Opgenomen in New York City. September 7 & 8, 1960
René Thomas: gitaar
J.R. Montrose: tenor saxofoon
Hod O'Brien: piano
Teddy Kotick: bas
Albert Heath: drums
---
Al Cohn & Zoot Sims (saxofonisten)
Al Cohn (1925-1988)
Geboren in Brooklyn, New York City, New York.
Overleden in Stroudsburg, Pennsylvania.
John Haley "Zoot" Sims (1925-1985)
Geboren in Inglewood, Californië
Overleden in New York City, New York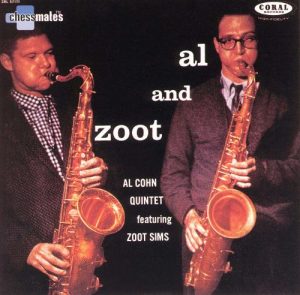 a) Chasing the Blues 6:09 (Al Cohn)
b) Two Funky People 4:29 (Al Cohn) *
Album: Al and Zoot (Coral Records CRL-57171)
Opgenomen: New York City. Maart 27, 1957
Al Cohn: tenor saxofoon
Zoot Sims: tenor saxofoon & klarinet op *
Mose Alison: piano
Teddy Kotick: contrabas
Nick Stabulas: drums
---
Barney Kessel (gitarist)
(1923-2004)
Geboren in Muskogee, Oklohoma.
Overleden in San Diego, Californië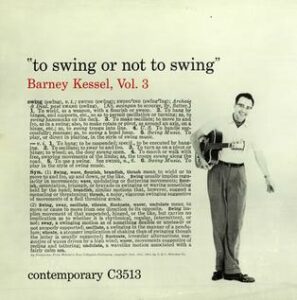 a) Happy Feeling 3:57 (Barney Kessel)
b) Wail Street 4:25 (Barney Kessel)
c) Contemporary Blues 4:09 (Barney Kessel)
Album: To Swing or Not to Swing (Contemporary Rec. C-3513)
Opgenomen: Los Angels. Maart 28 & July 26, 1955
Uitgebracht: 1956
Barney Kessel: gitaar
Harry Edison: trompet
Bill Perkins: tenor saxofoon
Jimmy Rowles: piano
Al Hendrickson: gitaar
Red Mitchell: contrabas
Shelly Manne: drums
---
Dave Pike (vibrafonist)
(1938-2015)
Geboren in Detroit, Michegan.
Overleden in Del Mar, Californë.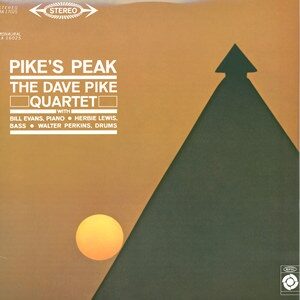 a) Why Not? 6:52 (Dave Pike)
b) In a Sentimental Mood 6:37 (Duke Ellington – 1935)
Album: Pike's Peak (Epic Records LA-16025)
Opgenomen: New York City. November 1961
Uitgebracht: 1962
Dave Pike: vibrafoon
Bill Evans: piano
Herbie Lewis: contrabas
Walter Perkins: drums
---
Teddy Edwards (saxofonist)
(1924-2003)
Geboren in Jackson, Mississippi.
Overleden in Los Angeles, Californië.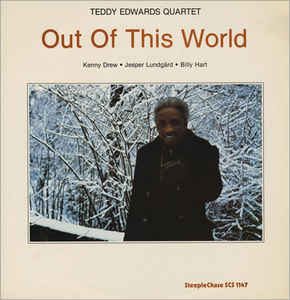 a) Summertime 8:29 (George Gerhswin – 1934)
b) Out of This World 11:07 (Harold Arlen – 1944)
Album: Out of This World (SteepleChase SCS-1147)
Opgenomen: Kopenhagen Denemarken. December 1980
Uitgebracht: 1981
Teddy Edwards: tenor saxofoon
Kenny Drew: piano
Jesper Lundgaard: contrabas
Billy Hart: drums
---