Jazz is een groot avontuur. In tegenstelling tot traditionele muziek, sinds enkele eeuwen vastgemetseld aan de partituur, wordt jazz gemaakt op het ogenblik, dat hij gespeeld wordt. Zelden wordt een jazz compositie tweemaal op dezelfde wijze vertolkt. De compositie doet er eigenlijk niet toe; al improviserend trekt de jazzsolist zijn verbeeldingswereld door en zijn publiek volgt hem en beleeft zijn avonturen swingend mee.
---
"Riverside Jazz" wordt elke zaterdagavond uitgezonden via BR6, van 22:00 tot 00:00 uur. Tevens is deze, na de uitzending, hieronder terug te luisteren.
Deel 1: 22:00 – 23:00
Deel 2: 23:00 – 00:00
---
Kenny Burrell (gitarist)
(1931)
Geboren in Detroit, Michigan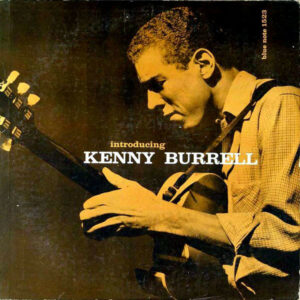 a) This Time the Dream's on Me 4:59 (Harold Arlen – 1941) *
b) Delilah 6:04 (Victor Young – 1949) *
c) Weaver of Dreams 4:44 (Victor Young)
Debuut Album: Introducing Kenny Burrell (Blue-Note BLP 1523)
Van Gelder Studio, Hackensack, New Jersey. Mei 29-30, 1956
Uitgebracht: September 1956
Kenny Burrell: gitaar
Tommy Flanagan: piano
Paul Chambers: bas
Kenny Clarke: drums
Candido Camero: conga *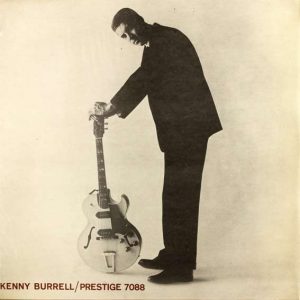 a) Strictly Confidential 6:29 (Bud Powell)
b) Perception 6:08 (Kenny Burrell)
Album Kenny Burrell (Prestige Records PRLP 7088)
Van Gelder Studio, Hackensack, New Jersey. Februari 1, 1957
Uitgebracht: 1957
Kenny Burrell: gitaar
Cecil Payne: baritone saxofoon
Tommy Flanagan: piano
Doug Watkins: bas
Elvin Jones: drums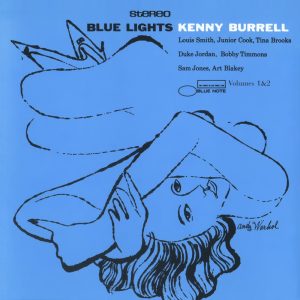 a) Phinupi 9:47 (Kenny Burrell)
Album: Blue Lights (Blue-Note Records BLP 1596)
Manhattan Towers in New York City NY. Mei 14, 1958
Uitgebracht: 1958
Kenny Burrell: gitaar
Louis Smith: trumpet
Bobby Timmons: piano
Sam Jones: bas
Art Blakey: drums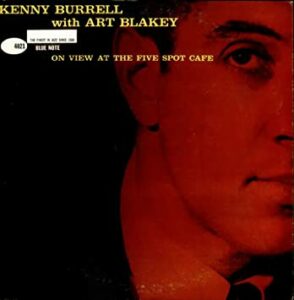 a) 36-23-36 3:46 (Kenny Burrell
Album On View at the Five Spots (Blue Note Records BLP 4021)
'Live' at Five Spots Cafe New York City NY. Augustus 25, 1959
Uitgebracht: 1959
Kenny Burrell: gitaar
Bobby Timmons: piano
Ben Tucker: bas
Art Blakey: drums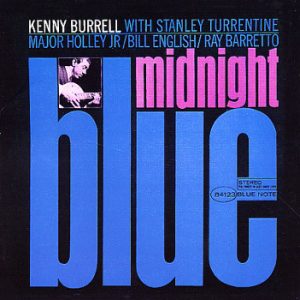 a) Saturday Night Blues 6:08 (Kenny Burrell)
b) Chittlins Con Carne 5:21 (Kenny Burrell)
Album: Midnight Blue (Blue Note Records BLP 4123)
Van Gelder Studio, Hackensack, New Jersey. Januari 8, 1963
Uitgebracht: Mei 1963
Kenny Burrell: gitaar
Stanley Turrentine: tenor saxofoon
Major Holley: bass
Bill English: drums
Ray Barretto: conga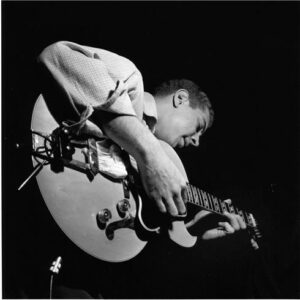 Kenny Burrell is een van de weinige beroemde bebopgitaristen "van de oude garde" die nog leeft. Hij heeft een uiteenlopende verzameling genres gespeeld, hoewel altijd in de jazzhoek. Hij richtte zich uiteindelijk met name op de bebop en blues, ook gecombineerd, zoals vaak in de jazz. Zijn bekendste productie is waarschijnlijk "Midnight Blue", een van zijn ongeveer 90 eigen producties.
---
deel twee riverside jazz
---
Bobby Hutcherson (vibrafonist)
(1941-2016)
Geboren in Los Angeles, Californié, U.S.
Overleden in Montara, Californië, U.S.
Vibrafonist Bobby Hutcherson is de man die met zijn percussieve, vibratoloze spel de vibrafoon dichter bij de marimba bracht. Samen met Gary Burton, het andere vibrafoontalent van de jaren zestig, moderniseerde Hutcherson het instrument met de metalen stokken door zijn ritmische, harmonische en melodische inzicht.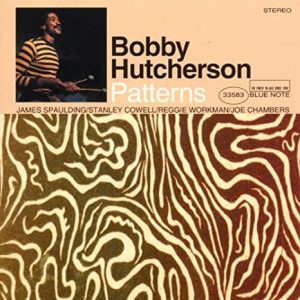 a) Effi 7:11 (Stanley Cowell)
b) Nocturna 4:13 (Joe Chambers)
Album: Patterns (Blue-Note Records 33583)
Van Gelder Studio, Englewood Cliffs, New Jersey. Maart 14, 1968
Uitgebracht: 1980
Bobby Hutcherson: vibrafoon
James Spaulding: fluit
Stanley Cowell: piano
Reggie Workman: piano
Joe Chambers: drums
Chet Baker (trompettist)
(1929-1988)
Geboren in Yale, Oklahoma, V.S.
Overleden in Amsterdam, Nederland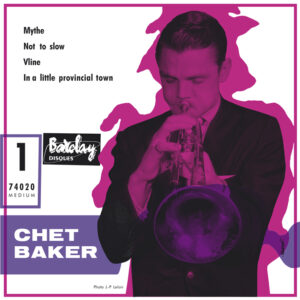 a) Mythe 3:05 (Pierre Michelot)
b) Not Too Slow 2:59 (Pierre Michelot)
c) Vline 3:04 (Christian Chevalier)
d) In a Little Provincial Town 3:00 (Bobby Jaspar)
E.P. Mythe (Barclay Disques 45 RPM 74020
Opnames in Parijs, Frankrijk. Maart 15, 1956
Chet Baker: trompet
Armand Migiani: tenor saxofoon
Teddy Ameline: alt saxofoon
William Boucaya: baritone saxofoon
Benny Vasseur: trombone
Francy Boland: piano
Benoit Quersin: bas
Pierre Lemarchand: drums
Stan Getz (saxofonist)
(1927-1991)
Geboren in Piladelphia, Pennsylvania V.S.
Overleden in Malibu, californië, V.S.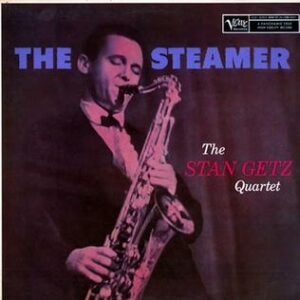 a) Blues for Mary Jane 7:55 (Stan Getz)
b) Too Close for Comfort 6:230 (George Davis Weiss & Jerry Bock)
Album: The Steamer (Verve Records MGV 8294)
Radio Recorders, Hollywood, Californië. November 24. 1956
Uitgebracht in 1957
Stan Getz: tenor saxofoon
Lou Levy: piano
Leroy Vinnegar: bas
Stan Levey: drums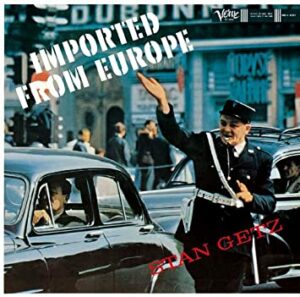 a) Bengt's Blues 4:14 (Bengt Hallberg)
b) Like Someone in Love 6:27 (Jimmy van Heusen – 1944) *
c) They Can't Take That Away from Me 7:17 *
(George Gershwin – 1937)
LP: Imported from Europe (Verve Records MGV 8331)
Opnames in Stockholm, Sweden. Augustus & September, 1958
Uitgebracht: 1959
Stan Getz: tenor saxofoon
Lars Gullin: baritone saxofoon
Benny Bailey: trompet
Àke Persson: trombone
Erik Nordström: tenor saxofoon
Bengt Hallberg: piano
Jan Johansson: piano *
Gunnar Johnson: bas
William Schiopffe: drums
---