We mogen de jazz muzikanten niet als romantische helden zien. Jazz muzikanten leven niet op een soort kunstzinnige Olympus en het feit dat ze in een idioom werken dat sommigen van hen in staat stelt in hun spel tijd en plaats te ontstijgen, maakt ze niet tot supermensen. Het zorgt er wel voor dat we terugkomen in de hoop dat zoiets opnieuw zal gebeuren.
---
"Riverside Jazz" wordt elke zaterdagavond uitgezonden via BR6, van 22:00 tot 00:00 uur. Tevens is deze, na de uitzending, hieronder terug te luisteren.
Deel 1: 22:00 – 23:00
Deel 2: 23:00 – 00:00
---
Tina Brooks (saxofonist)
(1932-1974)
Geboren in Fayetteville, North Carolina U.S.
Overleden in New York City, New York U.S.
Leeftijd 42 jaar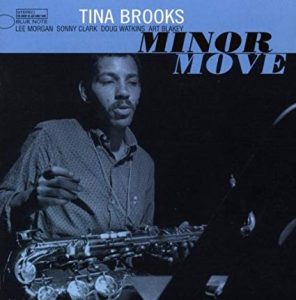 a) Nutville 8:52 (Tina Brooks)
b) Star Eyes 8:16 (Gene de Paul – 1943)
c) Everything Happens to Me 6:10 (Matt Dennis – 1940)
Album: Minor Move (Blue Note GXF 3072)
Van Gelder Studio, Englewood Cliffs, New Jersey. Maart 16, 1958
Uitgebracht: 1980
Tina Brooks: tenor saxofoon
Lee Morgan: trompet
Sonny Clark: piano
Doug Watkins: bas
Art Blakey: drums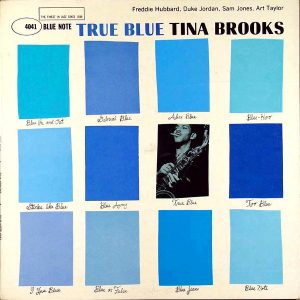 a) Up Tight's Creek 5:18 (Tina Brooks)
b) Theme for Doris 5:53 (Tina Brooks)
c) Nothing Ever Changes My Love for You 7:53 (Jack Segal – 1956)
Album: True Blue (Blue Note BST 84041)
Van Gelder Studio, Englewood Cliffs, New Jersey. Jumi 25, 1960
Uitgebracht: December 1960
Tina Brooks: tenor saxofoon
Freddie Hubbard: trompet
Duke Jordan: piano
Sam Jones: bas
Art Taylor: drums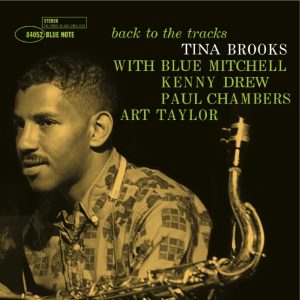 a) For Heaven's Sake 6:05 (Don Meyer & Sherman Edwards)
Album: Back to the Tracks (Blue Note BST 84052)
Van Gelder Studio, Englewood Cliffs, New Jersey, Oktober 20, 1960
Uitgebracht: Januari 27, 1998
Tina Brooks: tenor saxofoon
Blue Mitchell: trompet
Kenny Drew: piano
Paul Chambers: bas
Art Taylor: drums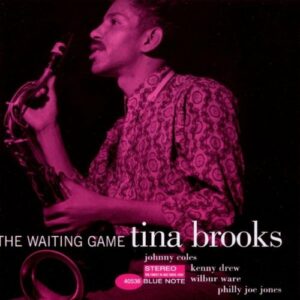 a) Stranger in Paradise 7:34 (George Forrest – 1953)
Album: The Waiting Game (BST 40536)
Van Gelder Studio, Englewood Cliffs, New Jersey, Maart 2, 1961
Uitgebracht: Oktober 8, 2002
Tina Brooks: tenor saxofoon
Johnny Coles: trompet
Kenny Drew: piano
Wilbure Ware: bas
'Philly' Joe Jones: drums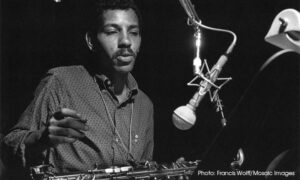 Harold Floyd 'Tina' Brooks was een Amerikaanse jazz-tenorsaxofonist van de hard bop. In 1944 verhuisde hij met zijn ouders naar The Bronx. Hij leerde aanvankelijk altsaxofoon en daarna tenorsaxofoon op school en bij zijn oudere broer Bubba. Zijn eerste verbintenis had hij in 1950 in de r & b-band van de pianist Sonny Thompson, Ontevreden met zijn rol als begeleidingsmuzikant (onder andere in de bigband van Lionel Hampton) nam hij theorielessen. Uiteindelijk werd hij aan de hard bop aangevoerd als protegé van de trompettist Little Benny Harris bij een verbintenis in het kleine theater Blue Morocco in de Bronx. Daar werd hij gehoord door de producent Alfred Lion van Blue Note Records, die in 1957 met hem vervolgens als sideman van Jimmy Smith opnamen maakte. Hij nam daar later ook op als sideman van Kenny Burrell, Freddie Hubbard, Jackie McLean en Freddie Redd.

Tussen 1958 en 1961 maakte hij vier albums als orkestleider, waarvan echter alleen True Blue werd uitgebracht, een belangrijk werk van de hard bop, waarop hij niet alleen als improvisator, maar ook als componist en arrangeur zijn handelsmerk achterliet. Ofschoon ook de overige albums allen waren klaar geproduceerd en deels al waren aangekondigd in het programma, werden ze door Blue Note Records niet uitgebracht. Schijnbaar speelden hier commerciële gedachten een rol. Ter zelfder tijd stimuleerde men bij Blue Note Records de hard bop-tenorsaxofonist Hank Mobley.
Tina Brooks was een zwaar verslaafde en had drugs gerelateerde gezondheidsklachten. Na 1961 nam hij niet meer op. Hij speelde nog met r & b- en latinobands en af en toe met jazzmuzikanten als Elmo Hope en Ray Charles. Zo rond 1962, moest hij zich gerealiseerd hebben dat het voor hem afgelopen was, dat er voor hem niets meer zou gebeuren terwijl hij nog dertig moest worden.
Zijn muziek beleefde pas tijdens de jaren 1980 een comeback, toen de achtergehouden Blue Note-albums in Japan werden uitgebracht.
---
Deel Twee Riverside Jazz
---
Horace Silver (pianist)
(1928-2014)
Geboren in Norwalk, Connecticut, V.S.
Overleden in New Rochelle, New York, V.S.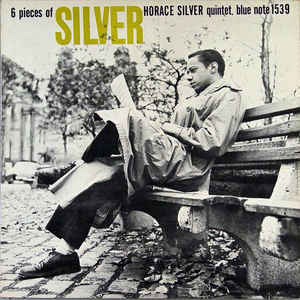 a) Shirl 4:11 (Horace Silver)
b) Camouflage 4:25 (Horace Silver) *
c) For Heaven's Sake 5:08 (Donald Meyer – 1947) 
d) Señor Blues 7:02 (Horace Silver) *
Album: 6 Pieces of Silver (Blue-Note Records BLP 1539)
Van Gelder Studio, Hackensack, New Jersey. Nov. 10, 1956
Uitgebracht: Januari 1957
Horace Silver: piano
Doug Watkins: bas
Louis Hayes: drums
Donald Byrd: trumpet *
Hank Mobley: tenor saxofoon *
Howard McGhee (trompetist)
(1918-1987)
Geboren in Tulsa, Oklahoma, V.S.
Overleden in New York City, New York, V.S.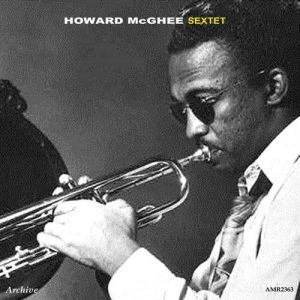 a) Denise 3:22 (Howard McGhee)
b) Nicole 3:30 (Howard McGhee)
c) Big Will 2:41 (Tadd Dameron)
d) Prelude to Nichole 3:23 (Howard McGhee)
Album: Howard McGhee Sextet (Gitanes Jazz Productions)
Opnames in Parijs, Mei 18, 1948
Howard McGhee: trompet
Jimmy Heath: alto saxofoon
Jesse Powell: tenor saxofoon
Vernon Biddle: piano
Percy Heath: bas
Spec Wright: drums
Warne Marsh (tenor saxofonist)
(1927-1987)
Geboren en overleden in Los Angeles, California, V.S.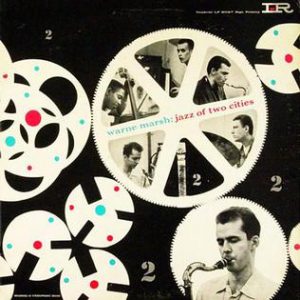 a) Lover Man 4:27 (Jimmy Davis & Ram Ramirez – 1941)
b) Quintessence 4:13 (Ronnie Ball)
c) Opus No. 42 3:58 (Pyotr Ilyich Tchaikovsky – 1878)
d) I Never Knew 5:02 (Ted Fio Rito – 1925)
Album: Jazz of Two Cities (Imperial LP 9027)
Radio Recordings, Los Angeles, CA. Oktober 3 & 11, 1956
Uitgebracht: 1957
Warne Marsh: tenor saxofoon
Ted Brown: tenor saxofoon
Ronnie Ball: piano
Ben Tucker: bas
Jeff Morton: drums
---