Jazz, dat is de kunst om het lichaam te bevrijden door middel van de swing en de ziel door middel van de klank. Jazz heeft een vocale oorsprong. Dat is zeker. Zang ligt immers aan de basis van elk melodische en ritmische expressie van de Afro-Amerikaanse muziek. Om de naam jazzmusicus waardig te zijn, moet de muzikant zich onderscheiden door, of beter nog, uitblinken in het 'vocaliseren' van zijn of haar instrument om het lied dat in hem of haar brandt nog beter ten gehore te brengen.
---
"Riverside Jazz" wordt elke zaterdagavond uitgezonden via BR6, van 22:00 tot 00:00 uur. Tevens is deze, na de uitzending, hieronder terug te luisteren.
Deel 1: 22:00 – 23:00
Deel 2: 23:00 – 00:00
---
Anita O'Day (zangeres)
(1919-2006)
Geboren: Chicago, Illinois
Overleden: West Hollywood, Californië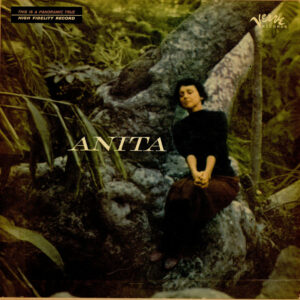 a) You're the Top 2:22 (Cole Porter)
b) Honeysuckle Rose 3:16 (Andy Razaf & Fats Waller)
c) I'll See You in My Dreams 2:52 (Gus Kahn & Isham Jones)
Album: Anita (Verve Records MG V-2000)
Opnames in Hollywood, Californië. December 8, 1955
Uitgebracht: 1956
Anita O'Day: zang
Paul Smith: piano
Barney Kessel: gitaar
Joe Mondragon: bas
Alvin Stoller: drums
Trombonesectie: Milt Bernhart, Lloyd Ulyate
—————————-Joe Howard en Si Zentner.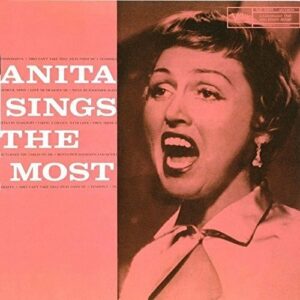 a) Old Devil Moon 2:56 (Yip Harburg & Burton Lane)
b) I've Got the World on a String 4:01 (Ted Koehler & Harold Lane)
c) We'll Be Together Again 3:41 (Frankie Lane & Carl T. Fisher)
Album: Anita Sings the Most (Verve Records MG V-8259)
Opnames in Chicago. Januari 31, 1957
Uitgebracht 1957
Anita O'Day: zang
Oscar Peterson: piano
Herb Ellis: gitaar
Ray Brown: bas
John Poole: drums
Anita's verschijning in de film 'Jazz on a Summer's Day' veroorzaakte een schok bij vele jazz liefhebbers. Op het podium van het Newport Jazz Festival in 1958, ietwat onvast op de benen, extravagant in haar zwarte jurk met bijbehorende, breedgerande pluimenhoed oogst ze een daverend applaus. Haar nonchalantie, haar scatcascades, haar natuurlijke spot, haar schorre klankkleur en haar geladen teksten verdienen een dergelijk triomf.
---
Annie Ross (zangeres)
(1930-2020)
Geboren: Mitchem, Verenigd Koninkrijk
Overleden: New York City, New York V.S.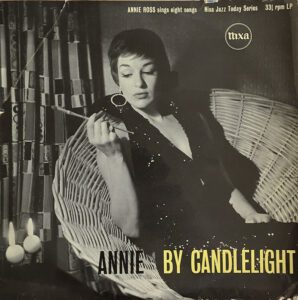 a) Gypsy in My Soul 2:42 (Moe Jaffe & Clay Boland)
b) Don't Worry About Me 2:20 (Ted Koehler & Rube Bloom)
Album: Annie by Candleight (Nixa Records NJT 504)
Opgenomen op 27 augustus 1956
Annie Ross: zang
Tony Crombie: piano
Bob Burns: klarinet
Roy Plummer: gitaar
Lenny Bush: bas
a) You Turned the Tables on Me 3:27 (Sidney Mitchell & Louis Alter)
b) Let There Be Love 3:46 (Ian Grant & Lionel Rand)
c) All of You 2:20 (Cole Porter) *
Album: Annie Ross Sings a Song with Gerry Mulligan
————(World Pacific Records WP 1253)
Opgenomen in New York City. December '57 – September '58 *
Uitgebracht: 1959
Annie Ross: zang
Gerry Mulligan: baritone saxofoon
Chet Baker: trompet
Art Farmer: trompet *
Henry Grimes: bas
Bill Crow: bas *
Dave Bailey: drums
Annie werd beroemd met de vocale jazzgroep Lambert, Hendricks & Ross en vond, na persoonlijke worstelingen, succes als actrice. Halverwege de jaren '50 ging haar solocarrière als jazz zangeres bijzonder voortvarend, maar eind jaren '60 kampten ze weer met allerlei privé problemen, in de jaren '70 verdween zij geheel uit de schijnwerpers. In de jaren '80 was zij weer terug, maar nu als een succesvolle actrice en haar carrière afsloot bij een cabaret gezelschap. Annie Ross bleef vooral bekend om haar ambtstermijn, van 1958-'62, als de hoge stem van Lambert, Hendricks & Ross, de meest succesvolle vocale groep in de geschiedenis van de jazz.
---
Blossom Dearie (zangeres)
(1924-2009)
Geboren: Durham, New York, Verenigde Staten
Overleden: Greenwich Village, New York City, New York V.S.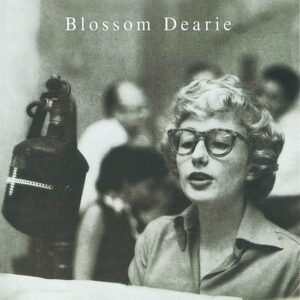 a) Deed I Do 2:12 (Fred Rose & Walter Hirsch)
b) Lover Man 2:46 (Roger Ramirez, Jimmy Davis & James Sherman)
c) Ev'rything I've Got 2:28 (Lorenz Hart & Richard Rodgers)
Album: Blossom Dearie (Verve Records MG V-2037)
Opgenomen in New York City. September 11-12, 1956
Uitgebracht: 1957
Blossom Dearie: zang & piano
Herb Ellis: gitaar
Ray Brown: bas
Jo Jones: drums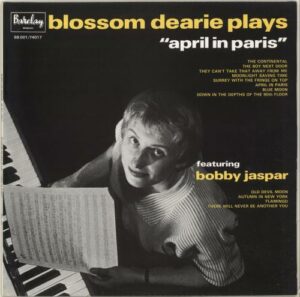 a) Old Devil Moon 2:30 (Burton Lane)
b) Autumn in New York 3:58 (Vernon Duke)
c) Flamingo 3:06 (Edmond Andersen)
Album: Blossom Dearie Plays "April in Paris" (Barclay E.P.)
Opgenomen in Parijs. Januari 16, 1956
Blossom Dearie: piano
Bobby Jaspar: fluit
Benoit Quersin: bas
Christian Garros: drums
Geboren als Blossom Margrete Dearie, was zij een klassiek geschoolde pianiste die overstapte naar de jazz. Halverwege de jaren '40 verhuisde ze naar New York City, waar zong met haar kleine meisjes stem, bij het ensemble The Blue Flames, een vocale groep bij het orkest van Woody Herman (1913-1987), en met de band van gitarist Alvino Rey (1908-2004) voordat ze aan een solocarrière begon.
Toen ze in 1952 nar Parijs reisde, trad ze toe tot de Blue Stars, een vocaal octet dat een hitversie van "Lullaby of Birdland" opnam. In Parijs deelde ze een kamer met de Engelse jazz-zangeres Annie Ross en ontmoette ze de Belgische fluitist en saxofonist Bobby Jaspar (1926-1963), met wie ze kort getrouwd is. In Parijs ontmoette zij ook Norman Granz (1918-2001), de eigenaar van Verve Records die haar een contract aanbood voor zes albums, en deze albums worden tegenwoordig beschouwd als cultklassiekers.
---
Dave Brubeck Quartet
(1920-2012)

Geboren in Concord, Californië, VS.
Overleden in Norwalk, Connecticut, VS.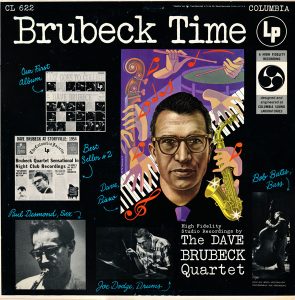 a) Audrey 3:35 (Dave Brubeck – Paul Desmond)
b) Jeepers Creepers 4:58 (Harry Warren – 1938)
c) A Fine Romance 3:50 (Jerome Kern – 1936)
d) Brother Can You Spare a Dime 5:18 (Jay Gorney – 1932)
Album: Brubeck Time (Columbia Records CL 622)
30th Street Columbia Studios, New York City.
Oktober 10-14 & November 10, 1954
Uitgebracht: Februari 14, 1955
Dave Brubeck: piano
Paul Desmond: alt saxofoon
Bob Bates: bas
Joe Dodge: drums
Bill Evans (pianist)
(1929-1980)
Geboren in Plainfield, New Jersey, VS
Overleden in Mount Sinai Hospital, New York City, New York, VS.
51 jaar geworden.
& Stan Getz (saxofonist)
(1927-1991)
Geboren in Philadelphia, Pennsylvania, VS
Overleden in Malibu, Californë, VS.
64 jaar geworden.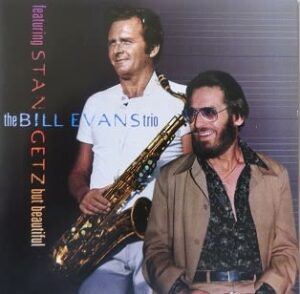 a) Grandfather's Waltz 8:05 (Lasse Fárnlöf) *
b) Stan's Blues 5:49 (Gigi Gryce) *
c) See-Saw 6:43 (Cy Coleman)
'Live' opgenomen Singer Concertzaal Laren. Augustus 9, 1974
d) You and the Night and the Music 7:38 (Arthur Schwartz) *
e) Lover Man 8:03 (Jimmy Davis – Roger Ramirez) *
'Live' opgenomen Jazz Middelheim, Antwerpen Augustus 16, '74

Album: But Beautiful (Milestone Records MCD 9249-2)
Uitgebracht: Maart 1996
Bill Evans: piano
Stan Getz: tenor saxofoon *
Eddie Gomez: bas
Marty Morell: drums