"Riverside Jazz" wordt elke zaterdagavond uitgezonden via BR6, van 23:00 tot 00:00 uur. Tevens is deze, na de uitzending, hieronder terug te luisteren.
---
Jimmy Smith (organist)
(1925-2005)
Geboren in Norristown, Pennsylvania
Overleden in Scottsdale, Arizona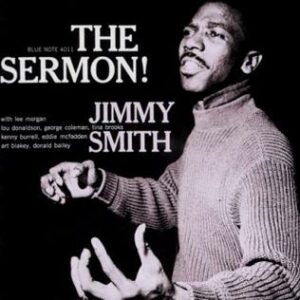 "Flamingo" 8:02 (Ted Grouya – 1940)
Album: The Sermon (Blue-Note BST 84011)
Locatie: Manhattan Towers, N.Y.C. Augustus 25, 1958
Uitgebracht: December 1959
Jimmy Smith: orgel
Kenny Burrell: gitaar
Lee Morgan: trompet
Art Blakey: drums
Organist Jimmy Smith was eind jaren vijftig zeer actief wat betreft plaatopnames. Het album The Sermon was zijn vijftiende album al weer in een tijds spanne van drie jaar. Er staan drie lange nummers op waaronder Flamingo en het 20 minuten durende The Sermon.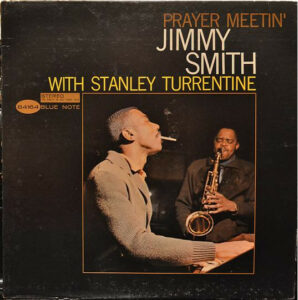 "Prayer Meetin'" 5:38 (Jimmy Smith)
Album: Prayer Meetin' (Blue-Note BST 84164)
Van Gelder Studio, Englewood Cliffs, N.J. February 8, 1963
Uitgebracht: 1964
Jimmy Smith: orgel
Stanley Turrentine: tenor saxofoon
Quentin Warren: gitaar
Donald Bailey: drums
---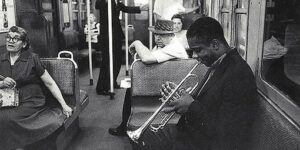 Donald Byrd (trompetist)
(1932-2013)
Geboren in Detroit, Michigan, Verenigde Staten
Overleden in Dover, Delaware, Verenigde Staten
Donald Byrd werd beschouwd als een van de beste hardbop-trompettisten. Hij nam veelvuldig op als zowel een leider als een sideman van het midden van de jaren '50 tot het midden van de jaren '60, meestal voor Blue Note, waar hij een reputatie opbouwde als een solide stylist met een zuivere toon, duidelijke articulatie en een talent voor melodicisme. . Tegen het einde van de jaren '60 raakte Byrd gefascineerd door Miles Davis' overstap naar fusion, en begon hij zijn eigen uitstapjes in dat krachteveld op te nemen, met wisselend succes.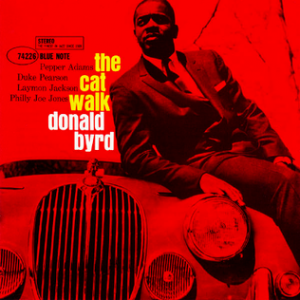 a) Say You're Mine 7:08 (Duke Pearson)
b) Duke's Mixture 7:00 (Duke Pearson)
Album: The Cat Walk (Blue-Note BLP 4075)
Van Gelder Studio, Englewood Cliffs, New Jersey. Mei 2, 1961
Uitgebracht: Februari 1962
Donald Byrd: trompet
Pepper Adams: baritone saxofoon
Duke Pearson: piano
Laymon Jackson: contrabas
'Philly' Joe Jones: drums
---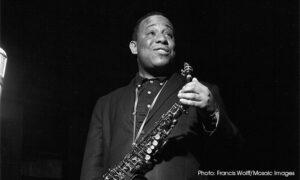 Lou Donaldson (saxofonist)
(1926)
Geboren in Badin, North Carolina, Verenigde Staten
Lou Donaldson is lange tijd een uitstekende bop-altist geweest, beïnvloed door Charlie Parker, maar met een meer op blues gebaseerde stijl van hemzelf. Zijn kenmerkende toon is te horen geweest in verschillende kleine groepen, en hij heeft door de jaren heen tientallen waardige en pittige (hoewel enigszins voorspelbare) sets opgenomen. Donaldsons vroege Blue Note-opnames waren pure bop. In 1958 begon hij vaak een congaspeler te gebruiken, en vanaf 1961 hadden zijn bands vaak een organist in plaats van een pianist. Zijn bluesy stijl was makkelijk over te brengen op souljazz,
en in die context klonk hij het meest origineel.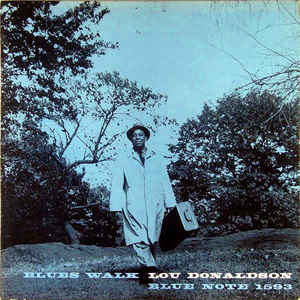 a) Play Ray 5:22 (Lou Donaldson)
b) Blues Walk 6:34 (Lou Donaldson)
Album: Blues Walk (Blue Note BLP 1593)
Van Gelder Studio, Hackensack, New Jersey Juli 28, 1968
Uitgebracht: 1958
Lou Donaldson: alto saxofoon
Herman Forster: piano
Peck Morrison: contrabas
Dave Bailey: drums
Ray Barrwtto: congas
---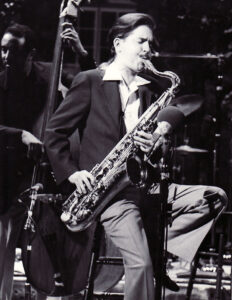 Scott Hamilton (saxofonist)
(1954)
Geboren in Providence, Rhode Island, Verenigde Staten
Scott Hamilton is een Amerikaanse jazzsaxofonist. Tijdens zijn jeugd luisterde hij veel naar jazzmuziek omdat zijn vader een omvangrijke platencollectie had. Hij probeerde als kind een aantal instrumenten, waaronder slagwerk op vijfjarige leeftijd, en op zijn zesde Bluesharp.
Maar uiteindelijk werd het de saxofoon.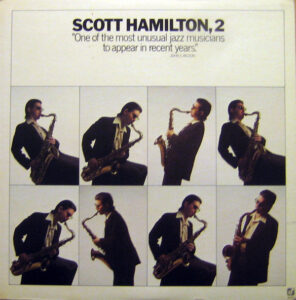 a) Blues for the Players 4:12 (Scott Hamilton)
b) The Very Thought of You 6:17 (Ray Noble – 1934)
Album: Scott Hamilton # 2 (Concord Jazz CJ-61)
Sunwest Recordings Studio, Hollywood, Californie
Opnames uit 1978
Scott Hamilton: tenor saxofoon
Nat Pierce: piano
Cal Collins: gitaar
Monty Budwig: contrabas
Jake Hanna: drums
---